Software Maintenance and Support
Practice Areas
72% of software product companies will release a new product each year
S/W product life cycle: 9 months; success rate of new products: 10%
Average percentage of maintenance costs to the total cost in the product life-cycle: 60%
Size of global s/w product market: $USD 173,397 million
CEO's new mantra: Innovate or Perish
Software Product Lifecycle Management Challenge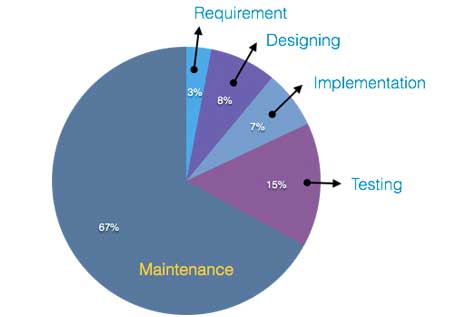 Support and Maintenance of a software product intended for a long operational life poses special management problems and covers aspects such as maintenance releases, upgrading, and new releases. The support and maintenance phase of the product life-cycle is widely recognized as not only the highest, but also the most critical cost for any software product company looking at continued profits over a span of time. Typical software product companies devote, in many cases, in excess of 50% of their total programming effort to support and maintenance (including upgrades).
Software companies focus spending on research and development because they know that innovative products and services are key to increasing top-line revenue. They also understand it is equally crucial to focus on their installed customer base in order to sustain and maintain existing revenue streams through product maintenance and support. Ultimately, today's software companies are looking for creative ways to reduce costs in order to increase profitability – without jeopardizing the quality of the products they deliver and service.
9xsd.com Solutions Delivers
Service packs release and patch tracking.9xsd.com Solutions Gand its Release Management services will provide regularly scheduled point releases whose content is driven by business value prioritization for maximized ROI.
Defect Resolution 9xsd.com Solutions and its Defect Resolution services will identify, prioritize, and fix existing system deficiencies to increase application performance and functionality, business agility, and to reduce cost.
Enhancements.Forward/backward porting to merge enhancements with the core product development efforts.9xsd.com Solutions will help you prioritize and optimize system enhancements to be strategically aligned with your strategic business needs.