Oracle Application
Our Oracle Enterprise Application Competency Group has capabilities to provide ERP, CRM, and Strategic Enterprise Management (SEM) and DSS Life Cycle Implementation processes for the Oracle suite of Enterprise Applications products. We have the capabilities to provide the complete Life Cycle Implementation process for the Oracle Enterprise Application Products.
Trained and experienced group of Oracle Applications ERP Consultants with the relevant skills such as Functional, Technical, and Business Analysis, and Project Management focusing exclusively on Oracle Enterprise Applications.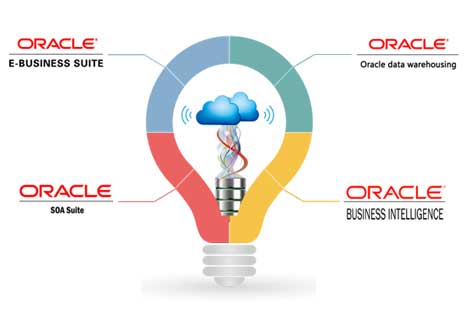 Developed a competency center with focus on all the Oracle Enterprise Applications products modules to impart specialized and detailed training to its in-house Consultants with emphasis on developing implementation skills. This center maintains several simulated Oracle Applications environments of our client's with a view to provide support to on-site team as well as provide a good training and test environment.
Build a pragmatic Implementation process methodology based on Oracle's AIMS Methodology and our experience across diverse engagements. This methodology provides a core process, which is adapted to meet the specific requirement and environment of the client.
How we do application development?
After receiving the requirement on the custom software application development, we will provide you a proposal including the estimations of the workload, the cost, and the timeframe.
Once we get the project, the system analyst will immediately start to analyze and design the system to keep our understanding of requirement consistent with you.
We will spend significant time to listen and study the application scopes of the software, your business needs, and business process. Then we will offer an analyzing result report and a development blueprint (Requirement Specification).
Led by the project manager, the development team will start the software development according to the development plan and time schedule.
We will keep you informed with the status and progress of the development at all stages of the development project lifecycle.
Following the coding phase, we will dedicate our efforts on the testing to minimize bugs.